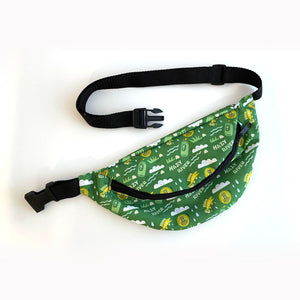 We've been having a ton of fun working with our friend Erica Lang of Woosah Outfitters on an original woodblock piece for our new IPA, Hazy River!  Woosah's passion for the outdoors and their fun-loving brand was the perfect match for our high-spirited and earthy IPA.    Our friend Bobby the black bear is seen enjoying a cold can of Hazy River while he floats and coasts on his tube on a perfect Michigan summer day. 
We've turned the art piece into some limited quantity gear!   Online exclusive and limited quantities; get it while you can!
Custom hip bag featuring Erica Lang's original Hazy River art piece.
Dimensions: 12" X 5"
Adjustable Waist Strap 
1 Pocket Zipper
 Float the hazy river, friends! 
All "last chance" and clearance items are FINAL SALE.  There will be no returns, refunds or exchanges for "last chance" and clearance items once purchased.